Young Writers' Workshop
at
Westtown School
Sunday, February 10th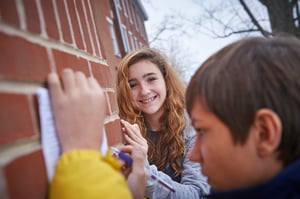 All 6th -9th graders are invited for an afternoon of creativity. Established authors and experts in writing will challenge students to expand their skill set.
The small group setting and interactive environment promises to be a perfect setting to allow young writers to develop their craft. This workshop is open to students from all schools.
Authors include Ellen Abbott, Caldecott winner Jen Bryant, Alex London and Kate Yeh.
Pre-Registration is required and space is limited. Workshop will take place in the Westtown Science Center from 1:00 - 3:00 pm and it is $15 per student.
About the Authors:
Ellen Jensen Abbott: is the author of the Watersmeet YA fantasy trilogy: Watersmeet (YALSA Top 10 nominee 2010) , The Centaur's Daughter, and The Keeper. She grew up in the foothills of New Hampshire's White Mountains--often disappearing for a whole day to build forts, pretend, and read in the fields and forests around her house. She has degrees in English and education from Brown and Harvard Universities. When she is not dreaming up stories about Seldara, she teaches English at Westtown School in Westtown, PA.
Jen Bryant:
"
Jen Bryant
writes picture books, novels and poems for readers of all ages. Her biography
A River of Words: The Story of William Carlos Williams
, illustrated by Melissa Sweet, received
a Caldecott Honor.
Their second collaboration,
A Splash of Red: The Life and Art of Horace Pippin
, won an
ALA Schneider Family Book Award
, the NCTE Orbis Pictus award, and a Sibert Honor. The third Bryant/Sweet book,
The Right Word: Peter Mark Roget and His Thesaurus
, won
the Sibert Medal and a Caldecott Honor.
Jen's novel in verse,
Ringside 1925: Views from the Scopes Trial
, is an Oprah Recommended Book for ages 12 and up." Meet Jen here.
Alex London Alexander London (Alex) has written numerous books for children and teens. He's the author of Black Wings Beating, the first book in his highly anticipated young adult fantasy series, and several middle grade series including The Wild Ones, Dog Tags, and Tides of War. He is also the author of two titles in the celebrated The 39 Clues series. Alex's young adult debut novel, Proxy, was an American Library Association Top Ten Quick Pick for Reluctant Young Readers and named to many state reading lists. Alex's first picture book, The Adventures of Wrong Man and Power Girl, arrived in 2018. Meet Alex here.

Kat Yeh '82 : "Kat grew up reading, doodling and scribbling in Westtown, PA. She worked for many years in advertising and sports marketing, while writing children's books in the wee hours of the night. She currently lives on Long Island where she can see water every day and explore the bay and harbor beaches with her family." She is the author of three picture books The Friend Ship, The Magic Brush, You're Lovable to Me, and two novels The Truth About Twinkie Pie (an NPR best Book of 2015 and a BEA Buzz Panel selection) and The Way to Bea. Meet Kat here.